Twitter Ticker ($AAPL)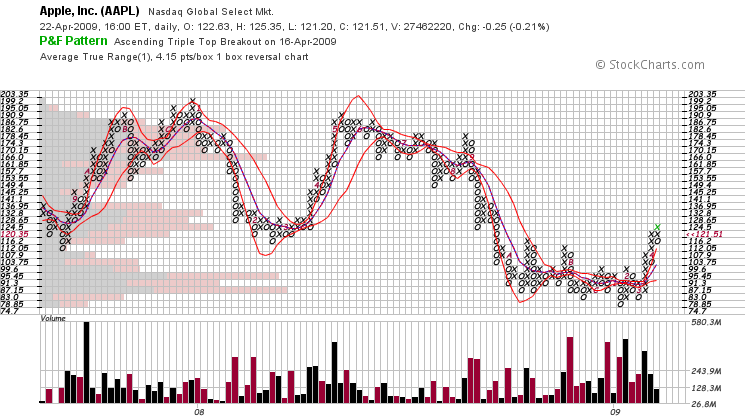 The Pod People have had a nice run since the March shakeout, and while I think Apple is due for an ass kicking, it is best to go with the flow. The trend remains higher with price well above the upper Bollinger, signaling buying pressure. That said, resistance is heavy and the rally has occurred on diminishing volume, so I wouldn't be surprised by a push to 100.
I don't own an iPod, never liked MacBooks, but I begrudgingly use an iMac and a bootleg copy of Final Cut to edit film. I think iPhones have a long way to go, and I'm secretly overjoyed to know that all the shiny people with white ear tentacles will be deaf by age 40.
Call me a jerk, call me a Luddite, but few of Apple's products speak to my desires. I want cheap electronics that I can use, mash-up, and throw out, not pseudo luxury items that will be obsolete in 6 months. PC desktops remain the best choice for any intelligent buyer, I can build one for $200… TWO HUNDRED DOLLARS.
Netbooks sell for $300 and Apple wants to charge 3x that?!? iPhones offer a pathetic text message interface; despite the fancy-shmancy accelerometer and gyroscopic whatever-the-fuckery, you can't hold the iPhone laterally and text using both thumbs… FAIL.
Maybe it's not all bad, and I'll admit, Final Cut is way better than Adobe Avid, but have you tried using an Apple mouse?!? It's like trying to finger bang your passed out drunk wife, uncomfortable and useless. Whoever designed the middle scroll wheel is a dummkopf, probably the cousin of the ass-face who had Apple making single button mice for years.
I could go on, really, I could, but nobody wants to hear it. Nobody wants to notice how shabby Apple really is, how lame the brand has been for years, and that the stock is a value trap disguised as a high tech retailer.  Apple would need to break 203 for me to get excited about this lame nag.