The S&P 500 Trend
To be wealthy in life, you gotta recognize iced dice. Today's odds are dangerous, don't catch a falling knife.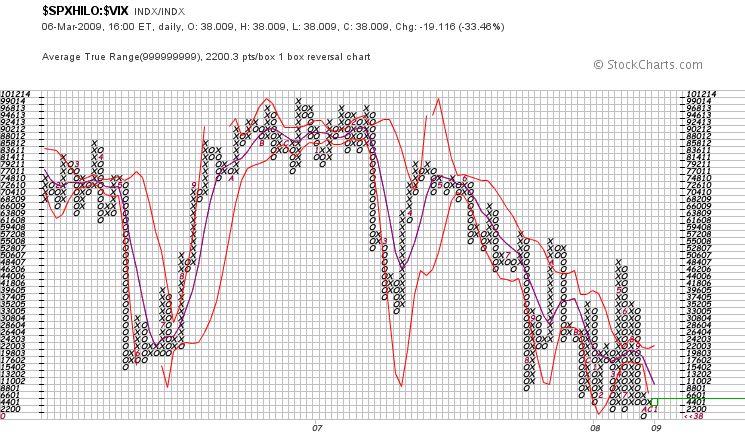 This is a composite of two derivatives, the Record High Percent (SPXHILO) and Volatility (VIX) Indexes. Together, they describe a market probability, the percentage of stocks at new highs/volatility (SPXHILO:VIX).
Making money is easier when stocks are at new highs, but the risk is greater if the volatility's in the sky. As stocks make new highs and volatility drops, the SPXHILO:VIX will rise, which is a good thing for stocks. If volatility increases and stocks breakdown, the index will fall, and so will your account.
Unlike line or candlestick charts, the direction of this graph is shown via X and O marks. On the left it begins in 2006, and the subsequent months are denoted in alphanumerics (1-9 and A-C are Jan-Sept and Oct-Dec respectively). A look at the x-axis reveals 2007 begins near center, and 2008 and 2009 are close in the right corner.
The irregular spacing is from the Point and Figure (PnF) method, which reduces noise by ignoring times passage. Non-linear time is the effect it creates, only making marks if values fluctuate. Months can pass without a visible change if the relationship between SPXHILO and VIX stays the same.
Since October of 2008, this indicator has shown little change, it's as low as it goes and indicates a rigged game. Rigged against players who think they have a chance, of catching a fast knife without cutting their hands.
When stocks are falling and volatility is high, I leave investing to the super rich guys. For me this market is about quick profits and trades, long term buying is an invitation from Hades.